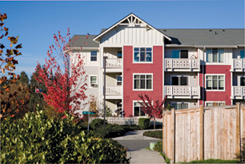 Quick Links
• Log In to the Portal
• 9% Housing Credit Program
• Bond/4% Housing Credit Program
• Public Housing & Development Authorities
Want to be added to our mailing list?

Multifamily Developer Portal Resources
The Multifamily Developer Portal facilitates the application process for developers seeking funding from the Washington State Housing Finance Commission.
Log in to the Portal if you have an account.
How Do I Access the Portal?
You must have an individual user login. You can self-register by going to: https://wshfc.my.site.com/multifamily/s/login/. Click on the "Create an Account" link below the "Login" button.
If you experience any technical issues registering for a new account, please contact MHCFPortal@wshfc.org
When Do I Use the Portal?
Apply For Funding
Applicants applying for funding in the following programs must apply through the Portal:
9% and Bond/4% Housing Credits
What's Available Now
Visit our program pages for application schedules and funding round announcements.
Non Commission Bond/Tax Credit
Want to get announcements in your inbox? Sign up here!
How Do I Use the Portal?
User Guides
Review topic specific user guides linked below:
How to Customize Your User Profile and Settings
How to Upload, Submit, Review and Delete Files
Training Videos
9% Housing Credit Application Demo (Held: 10/13/22)
QUESTIONS
Call us at 206-464-7139 or 800-767-4663 in WA or email MHCFPortal@wshfc.org.