HOMEOWNERSHIP
• Home Advantage
• Opportunity
• MCC Reissuance
• Homebuyer Education
• Premier Lenders
• Downpayment Assistance
• Homeowners Guide
• Counseling Providers



City of Tacoma Downpayment Assistance Program Target Area as of June 1, 2014

click map to enlarge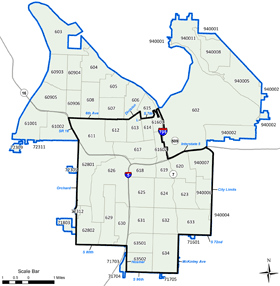 Tacoma Downpayment Assistance Loan Program
Program out of funds as of December 2nd, 2019. No further information is available at this time.
Disclaimer: The Commission does not endorse a person, business practice, product or service other than those of the Commission.
Tacoma downpayment assistance is a second mortgage loan program that combines with the Home Advantage or Opportunity first mortgage loan programs. This program is for qualified borrowers purchasing within the eligible city limits (PDF) of Tacoma. This program allows up to $20,000 in downpayment assistance with payments deferred for 30 years, at 4% simple interest.
Due to federal guidelines, the home must not have been occupied by a tenant within 90 days of the purchase and sale agreement. You must be a first-time homebuyer and the home you are purchasing must be your principal residence and owner-occupied. The definition of a first-time homebuyer is that you have not owned a home anytime in the past three years. There are no monthly payments, with the balance due and payable when the Borrower(s) 1) sells, refinances, transfers the property; 2) fails to maintain as principal place of residence; or 3) when the home is paid off (on or before 30 years).
You must attend a free Homebuyer Education Seminar sponsored by the Washington State Housing Finance Commission and receive your certificate. You will also attend a one-on-one pre-purchase counseling session just prior to closing. The seminar and counseling will provide you with the information you will need to purchase and maintain your first home. Online Homebuyer Education will not meet the seminar requirement for this program.
Once you are pre-approved and your lender says you are ready to close, please contact one of the following agencies to schedule an appointment for the one-on-one pre-purchase counseling session:
South Sound Outreach Services Tacoma, 253-593-2111
Parkview Services Seattle, 206-542-6644, Marnie Claywell ext 126
PC2 Homeownership, 253-564-0707 x105
MAXIMUM INCOME LIMITS as of 09/09/2019
To be eligible for Tacoma Downpayment Assistance, your household income must not exceed these limits:
| | | | | | | | | |
| --- | --- | --- | --- | --- | --- | --- | --- | --- |
| Household Size | 1 | 2 | 3 | 4 | 5 | 6 | 7 | 8 |
| Household Income Limit | $44,950 | $51,350 | $57,750 | $64,150 | $69,300 | $74,450 | $79,550 | $84,700 |
MAXIMUM PURCHASE PRICE as of 09/09/2019
Existing construction home limit is $285,000.
New construction home limit is $354,000.
No manufactured homes allowed with this program.
USE OF FUNDS
Funds may be used for downpayment and closing costs based upon need.
The Borrower's minimum downpayment requirement is $1000.
Gift funds are allowed to meet the borrower's minimum contribution requirement.
PARTICIPATING LENDERS
We would like to thank the following Lenders for their participation in the Tacoma Program:
Verify a mortgage company or individual: www.nmlsconsumeraccess.org
Sunny Wilson, NMLS# 505811, Eagle Home Mortgage, 425-876-4959, SunnyWilson@eaglehm.com
Annette Schmidt, NMLS# 287955, Academy Mortgage 253-347-5052, Annette.Schmidt@academymortgage.com
Traci Skinner, NMLS# 184042, Fairway Independent Mortgage, 253-677-9493, Traci.Skinner@fairwaymc.com
QUESTIONS
If you have questions about the Tacoma Downpayment Assistance Loan Program, please contact Dietrich Schmitz at 206-287-4459 or toll free at 800-767-4663, Ext. 459, or by e-mail dietrich.schmitz@wshfc.org.