ADMINISTRATION
• About WSHFC
• Board Meetings/Hearings
• Careers
• Commissioners
• Directions
• Events and Workshops
• Newsroom
• Requests for Proposals
• Public Records Requests
• Publications

Getting to the Commission
The Commission is located on the east side of 2nd Avenue between Spring & Madison. Check-in with the receptionist on Floor 27 when you arrive.
Washington State Housing Finance Commission
1000 Second Ave., Suite 2700, Seattle, WA 98104-3601
206.464.7139 or 800.767.4663
SPECIAL HOTEL RATES FOR COMMISSION EVENTS
The Commission now has a corporate rate agreement with the Executive Hotel Seattle. These rates are available to those attending a Commission class, seminar, training, or meeting: Hotel Fact Sheet (PDF) | Book a Reservation
PAY PARKING
Visitors are encouraged to use the many convenient transportation options available to get to the Commission. If you must drive, pay parking is available in the area. A limited amount of visitor parking may be available in the Commission building ($10.00 per hour) in the South Visitor Garage only via the Madison Street entrance. Additional pay parking options may be found nearby. Parking prices vary dramatically by garage and by time of day.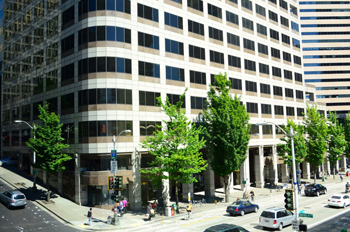 Parking in the Commission Building Visitor Garage via Madison: Space is limited and prices are up to $10.00 per hour. From Second Avenue, turn left onto Spring street. From Spring Street, turn right on 3rd (go one block only or you will get a ticket during rush hours, 6-9AM and 3-6:30PM) - Right on Madison - The Commission building visitor garage entrance is on the right (after the alley).
Other Parking: Benaroya Hall Parking Garage (entrance on 2nd Ave, just south of Union Street) is located three blocks North of the Commission. Parking is also available at the Cobb Building (entrance on University between Third and Fourth avenues) and at the Chase Building garages (entrance on Union Street between First and Second avenues). There are many other garages within a six-block radius of the Commission office.
DRIVING DIRECTIONS
Traveling North on I-5
Exit 164 – Seneca Street | Follow Seneca Street to Second Avenue | Turn left onto Second Avenue

Traveling South on I-5
Exit 165A – Union Street | Follow Union Street to Second Avenue | Turn left onto Second Avenue

Traveling West on I-90
Take I-5 north to the Madison Exit | Turn left on Madison and continue to 4th Avenue | Turn right on 4th Avenue and continue to Union Street | Turn left on Union Street and then turn left onto 2nd Avenue

Traveling South on WA State Route 99 (Aurora Avenue)
Take the Denny Street exit keeping to the right | This crosses Denny and leads to Wall Street | Turn left onto 2nd Avenue & head south for approximately 10 blocks

FERRY & WATER TAXI
The Seattle Ferry Terminal (Colman Dock) is three blocks from of the Commission.
Washington State Ferry Schedule
TRANSIT & LIGHT RAIL
Downtown Seattle Transit Tunnel University Street Station is located three blocks from the Commission
TRAIN: SOUNDER & AMTRAK
King Street Station is eight blocks South of the Commission. King Street Station is near the International District Station of the Transit Tunnel.
Sounder Commuter Rail Service (north to Everett or south to Tacoma)
BICYCLE
City of Seattle Bicycle Program Map & Trails
FROM SEA-TAC AIRPORT
SeaTac Transportation Options See ground transportation options to downtown Seattle including using Link Light Rail that goes directly to the University Street transit tunnel station, just three blocks from the Commission.