HOMEOWNERSHIP
• Home Advantage
• House Key Opportunity
• MCC Reissuance
• Homebuyer Education
• Premier Lenders
• Downpayment Assistance
• Homeowners Guide
• Counseling Providers


Welcome to the newest—and greenest—home loan program from the Commission. EnergySpark is designed to work hand-in-hand with our Home Advantage loan and downpayment assistance.
Buy a house. Save energy. Save money. It's that simple.
State offers buyers of energy-efficient homes interest break kirotv.com 05/28/2015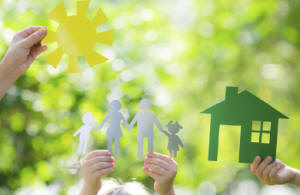 Disclaimer: The Commission may not be able to offer a .25% interest rate reduction on all days and on every rate.
HOMEBUYERS SAVE TWO WAYS
The mortgage rate and down payment:
Borrowers who buy an energy-efficient home or make upgrades to an existing home at the time of purchase save 1/4 percent on their interest rate. Plus, they still qualify for our downpayment assistance.


The utility bill:
Utilities are among the hidden costs of homeownership. The more efficient the house, the more money saved.
HOMEBUYERS WHO MAY QUALIFY
Household income under $180,000
Purchasing either: A new home that exceeds Washington state energy standards by at least 15%, OR
An older home that can be upgraded for 10% energy savings over its current use.
An energy assessment shows the most cost-effective upgrades for the home, and EnergySpark helps finance the work!
PROGRAM REQUIREMENTS
To be eligible for EnergySpark, you must purchase:
New Construction: NEEM/Energy Star Homes ®, LEED ® for Home & National Green Building Standards Silver, Gold or Platinum, Department of Energy Zero Energy Ready Home, Passive House, and Built Green ® 3, 4, or 5 Star Certification


Existing Construction: Work with your lender to make improvements (per underlying mortgage guidelines*) that improve home's efficiency by at least 10% based on a Pre & Post Energy Audit. *Subject to lender approval.
HOMEBUYER EDUCATION
Borrowers must attend a Commission-sponsored homebuyer seminar prior to reserving funds under the Home Advantage Program.
ENERGY ASSESMENT
An energy assessment, or audit, tells you how energy efficient a home is and what improvements might make it more efficient. The energy auditor conducts tests on the home's major systems and provides a detailed report as well as recommendations. An energy assessment is required for homebuyers using EnergySpark to purchase an existing home.
Please work with your lender to find a qualified auditor in your area.
PARTICIPATING LENDERS
See Premier Participating Lenders who have been helpful to homebuyers. Further restrictions apply.
QUESTIONS
If you have questions about the Energy Spark program, please call us at 206.464.7139 or toll free at 800.767.4663 or email Dietrich.Schmitz@wshfc.org.
06/15/2015