HOMEOWNERSHIP
• Home Advantage
• Opportunity
• MCC Reissuance
• Homebuyer Education
• Premier Lenders
• Downpayment Assistance
• Homeowners Guide
• Counseling Providers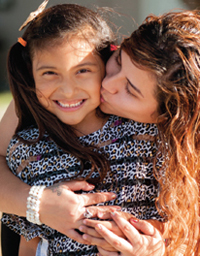 Working Together:
Home Advantage helps qualified households in Washington State realize the dream of Homeownership!

Home Advantage Program
Home Advantage Rates | House Key Opportunity Rates
Fannie Mae "HFA Preferred" Pricing Has Changed
Beginning Sept. 5, 2019, Fannie Mae's "HFA Preferred" pricing benefits are limited to borrowers with incomes at or below 80% AMI. Our rates tables reflect this change with higher pricing for Fannie Mae conventional for borrowers above 80% AMI with AUS case files dated on or after Sept. 5. For more details, see our August 27 Program Announcement.
Click here to see 2019 80% Area-Median Income Limits
Jump to the different rates:
Government
|
Freddie
|
Fannie-AUS<9/5/19
|
Fannie-AUS>9/5/19
---
---
---
---
<![if !supportLists]> 1. <![endif]> Beginning January 1, 2020 the high balance fee will apply to loans delivered to GSE's with loan amounts above $510,400 and up to $741,750 in King, Pierce, and Snohomish counties. NOTE: High Balance loans not available on Freddie Mac HFA Advantage program.
<![if !supportLists]> 2. <![endif]> Other DPA programs available. See lender programs page for more information.
Rates subject to change without notice. WSHFC staff will make every reasonable effort to post daily rates by 9:00am Monday - Friday PST. Rates posted after 4:00pm PST, over holidays, and weekends are sample rates from the previous business day and are not to be relied upon for reservations. Homebuyers interested in applying for financing should contact one of the Commission's Participating Lenders. The Commission does not lend money directly to consumers. Participating Lenders pre-qualify consumers and originate all mortgage loans. This is not an advertisement for credit as defined in Regulation Z. Contact a Commission Participating Lender for Annual Percentage Rate (APR). This is not a commitment to lend. Further fees may apply. Contact your participating loan officer for more information. Interest rate buydowns are prohibited. Visit heretohome.org for more information.
Home Advantage Brochure (PDF) | Frequently Asked Questions
HOW TO GET STARTED

Attend a Free Homebuyer Education Seminar. It will provide you with the steps to buying your first home. You will receive a certificate upon completion of the class, valid for two years. This will be a requirement of your loan process.


Contact a Commission-Trained Loan Officer. They can find the right loan type that will work with our programs to see if you qualify. They also know the income limits we require.


Once you know how much you qualify for, it is time to look for a home. Your lender and real estate professional will work with you to locate and finance a home.
ADDITIONAL HELP WITH HOMEOWNERSHIP
Washington State Dept. of Financial Institutions protects Washington homeowners and buyers. Free state sponsored counseling is available to Washington residents who are facing foreclosure, thinking of buying a home, or considering refinancing. To speak with a counselor, call the Washington Homeownership Information Hotline at 1.877.894.HOME (1.877.894.4663).
HOME ADVANTAGE FIRST MORTGAGE LOAN
Do you qualify?
If you've attended and obtained a certificate from a Commission-sponsored homebuyer education seminar within the last two years;
If you meet the program income limits listed below; and...
If you meet with a Commission trained loan officer and determine that you qualify for a mortgage loan according to FHA, VA, Conventional, Rural Housing Services (RHS),
Then... you may qualify!

HOME ADVANTAGE PROGRAM PARTICIPATING LENDERS
These Participating Lenders have a proven track record of originating and closing Home Advantage loans.
See Premier Participating Loan Officers.
1st Security Bank of Washington

Absolute Mortgage

Academy Mortgage

Alaska USA Mortgage

AmCap Mortgage

American Pacific Mortgage

Axia Home Loans

Bank 34

Bank of the Pacific

Banner Bank

Bay Equity LLC

Cardinal Financial

Caliber Home Loans

Cherry Creek Mortgage

Chimney Rock Mortgage

City First Mortgage Services

CMG Mortgage

Cornerstone Home Lending

CrossCountry Mortgage

DHI Mortgage

Diamond Residential Mortgage

Directors Mortgage

Eagle Home Mortgage

Envoy Mortgage

Evergreen Home Loans

Fairway Independent Mortgage

Finance of America

First Centennial Mortgage

First Continental Mortgage

Flagstar Bank

Gateway Mortgage Group

Geneva Financial

Global Credit Union

Goldwater Bank

Guild Mortgage

HomeBridge Financial Services

HomeServices Lending

HomeSight

HomeStreet Bank

International City Mortgage

Land Home Financial Services

Landmark Professional Mortgage

LeaderOne Financial

LoanDepot

LoanStar Home Lending

Mann Mortgage

Mortgage Master Service Corporation

Mortgage Solutions of Colorado

Mountain West Bank

Movement Mortgage

New American Funding

Numerica Credit Union

On Q Financial

Opes Advisors

Pacific Residential Mortgage

Paramount Residential Mortgage Group

Penrith Home Loans

Peoples Bank

Premier Mortgage Resources

Primary Residential Mortgage

Prime Lending

Priority Home Lending

Procura Mortgage

Sierra Pacific Mortgage Company

Skyline Home Loans

Stearns Lending

Summit Funding

Summit Mortgage Corporation

The Advisors

Top Flite Financial

Umpqua Bank

Wallick & Volk

Washington Trust

Wells Fargo Bank, NA

Wheatland Bank

Willamette Valley Bank

Windermere Mortgage Services
QUESTIONS REGARDING PARTICIPATING LENDERS
The Commission welcomes new participating lenders into our programs.
Please contact Corinna Obar at corinna.obar@wshfc.org or 206-287-4414.
INCOME LIMITS
Borrowers must not exceed the Maximum Annual Income Limit: Statewide $145,000
WHEN WILL THESE FUNDS BECOME AVAILABLE?
Funds for the Home Advantage program are continuously available and are subject to market rates and conditions. If you have questions about the Home Advantage Program, please call us at 800.767.4663 or email info@heretohome.org or Corinna.Obar@wshfc.org.
WHEN CAN MY LOAN OFFICER LOCK MY RATE?
Your loan officer can lock your rate after you have a fully executed purchase and sale agreement and after you have taken a Commission sponsored homebuyer education seminar. Please check with your lender regarding locking your loan as loans must be delivered prior to lock expiration and each lending institution will have their own internal guidelines. If a reservation of funds is made before you take a Commission sponsored homebuyer education seminar, the current reservation will be considered invalid and will be subject to worst case pricing. No exceptions.
DISCLAIMER: The sponsorship by the Commission of a homebuyer education seminar does not endorse a person, business practice, product or service other than those of the Commission.