Asset Management and Compliance
• Contact Us
• Forms and Reports
• Income and Rent Limits
• Inspections
• Tax Credit Compliance Manual
• Tax Credit Compliance FAQs
• Bond Compliance Manual
• Bond Compliance FAQs
• Compliance Workshop Registration
• Event Calendar
• Resources
• WBARS
Be the first to know!
• E-News monthly newsletter

WBARS 2.0 is Almost Live!
The extensive 2019 upgrade to WBARS is scheduled to be live as of May 2, 2019!
Learning More
Get a live demo of WBARS 2.0 at the AHMA conference next week! (see below)
We will have User Guides available in the system and on our website by the end of April.
A Help module will be available in the new WBARS – all training materials will be located there.
Watch for links to online Q&A sessions with Commission staff, coming soon.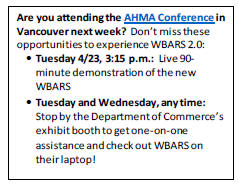 Looking for current WBARS Instructions and Training Materials? Webinar, Instructions, and XML Import Information
Link to WBARS site: www.wbars.com