Asset Management and Compliance
• Contact Us
• Forms and Reports
• Income and Rent Limits
• Inspections
• Tax Credit Compliance Manual
• Tax Credit Compliance FAQs
• Bond Compliance Manual
• Bond Compliance FAQs
• Compliance Workshops and Trainings
• Event Calendar
• Resources
• WBARS
Be the first to know!
• E-News monthly newsletter
Proud Partner Awards
Affordable Housing Management Association
City of Seattle Office of Housing
Senior Housing Assistance Group
United States Department of Agriculture Rural Development/Rural Service
Washington State Council for Affordable & Rural Housing
HNN Associates LLC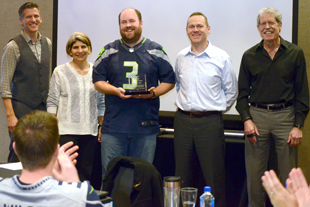 On December 18, 2015 the Commission presented HNN Associates LLC with our Proud Partner Award in recognition of their consistently excellent property management of more than 4,600 affordable apartments in 25 different properties. Val Pate, director of Asset Management and Compliance, and senior portfolio analyst Jack Beeching presented the honor to more than 80 staff from HNN at their annual meeting in Redmond. As the award says, "In recognition of your efforts to effectively manage and preserve affordable housing for the people of Washington State…" We are very proud to partner with this consistent, conscientious and capable company. Press Release…
Photo left to right: Jack Beeching and Val Pate of WSHFC, Aaron Stright and Phil Nored of HNN, and Jack Hunden of DevCo. Duane Bakke of WSHFC was also present and took this photo.
Previous Award Winners Since 2003
Indigo Real Estate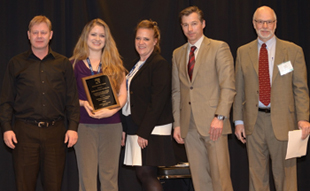 Indigo Real Estate of Mercer Island was honored by the Commission for outstanding property management during the 2014 annual joint convention of the Affordable Housing Management Association of Washington and the Affordable Rural Housing Council in Yakima. "Indigo is a standout because they believe in ongoing training for their staff and they understand the best practices of management," said Paul Fitzgerald, former director of Asset Management and Compliance for the Commission. Read our press release…
Coast Real Estate Services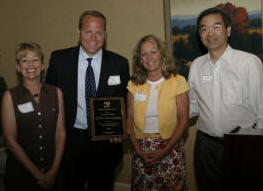 In 2008, Coast managed 37 Tax Credit and Bond financed properties with 2100 units of affordable housing in Washington State. Five properties are located in Yakima County: New Life Villa, Sunnyside Family Housing, San Isidoro Plaza, Buena Nueva and Juan Pablo. These five properties serve Farmworkers. Coast also manages affordable units for the Elderly, Disabled, Homeless and general Family Housing. For over 20 years Coast Real Estate Services has maintained their company goal to "exceed our clients' expectations." Award was presented by Commissioner Tim Otani to Shawn Hoban, co-owner of Coast, Kathy Reyes, Compliance Director, and Mary Anne Hoppe, Portfolio Manager as part of a Commission reception held in Yakima in June 2008.
City of Seattle Office of Housing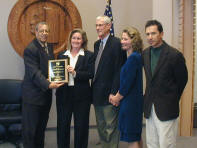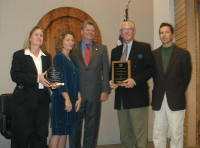 In 2003, this award was presented to the City of Seattle Office of Housing (OH) to recognize their long-standing partnership with the Commission (WSHFC) in providing affordable housing for the citizens of the City of Seattle. The City and Commission have worked in partnership for many years. In 2000, OH and WSHFC signed a Memorandum of Understanding (MOU) to share monitoring duties and information on properties with joint funding from OH and WSHFC. This relationship has proved beneficial for both agencies and has been a benefit to owners, managers and residents of affordable housing as well, by reducing administrative reporting and on-site inspections. Presented by Mark A. Flynn to Katie Hong, Director, Seattle Office of Housing, on October 2, 2003.
Affordable Housing Management Association (AHMA-WA)

In 2003, AHMA-WA received the award. A non-profit membership organization representing developers and property managers for multifamily affordable housing properties in Washington. In 2003, its membership of approximately 60 cumulatively manages 20,000 units statewide. Presented by Mark A. Flynn, to Doug Repman, President, on August 15, 2003.
Senior Housing Assistance Group (SHAG)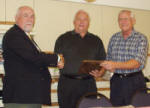 In 2003, SHAG managed 19 projects of senior housing totaling 2500 units. The consistency of their reports and supporting documentation always rates among the best. Presented by Mark A. Flynn to Arthur Martin on August 12, 2003.
Quantum Management Services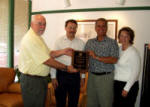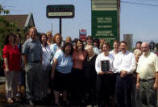 In 2003, Quantum received their award for their continued commitment to maintaining superior compliance with the Tax Credit and Bond Programs. In 2003, they managed 49 properties in Washington with 2919 low-income units. They continually display dedication and routinely submit clean reports. Presented by Mark A. Flynn to Doug Repman, President, on August 6, 2003.
Ad-West Realty Services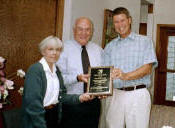 In 2003, Ad-West managed 37 properties in Washington with 1,010 low-income units. They specialize in Rural Housing projects and are able to comply with Rural Development and Tax Credit programs. They are responsive and thorough. Presented by Mark A. Flynn to Warren Wested, President, on June 11, 2003.
Allied Group, Inc.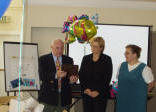 In 2003, Allied managed 19 tax credit and bond properties housing totaling 1,350 units. The consistency of their reports and supporting documentation always rates among the best. Presented by Mark A. Flynn to Sloan Jordan, President, Lanakay Lipp, Compliance Monitor, on May 29, 2003.
Washington State Council for Affordable and Rural Housing (WA-CARH)

In 2003, WA CARH received the award for their dedication to quality development and management of affordable housing serving the rural areas of Washington State. Presented by Mark A. Flynn to Maurice King, President, on April 15, 2003. THe organization is currently known as the Affordable RUral housing Council (ARHC)
U.S. Department of Agriculture Rural Development / Rural Service

in 2003, USDA RD/WA received the award for working together with the Commission to finance nearly 2,500 units of rural housing with Low Income Housing Tax Credits. Additionally, Rural Development and the Commission have shared compliance information and conducted compliance reviews under a joint Memorandum of Understanding since June 17, 1994. Presented by Mark Flynn to Robert Lund, Program Director, USARD/RS, April 15, 2003.
02/01/2016