ADMINISTRATION
• About WSHFC
• Board Meetings/Hearings
• Careers
• Commissioners
• Events and Workshops
• Newsroom
• Publications






Congratulations to our 2019 Friend of Housing winners!
Read more about these amazing leaders here.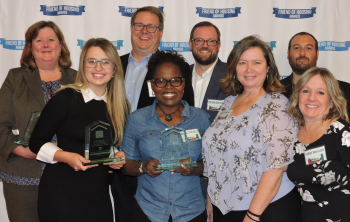 L-R: Julie Honekamp, Fallon Santoro (daughter of Chris Santoro), Rob Van Tassell, Charlette Riley (Bremerton Housing Authority), Nathan Gorton, Carol Zborowski (Bremerton Housing Authority), Sam Green of ROC Northwest, Sara Van Cleeve (Bremerton Housing Authority). Not pictured: Estela Ortega. Photo by Brianne Smith..
EVALUATION CRITERIA
The selection committee evaluates nominees according to their active commitment in the previous twelve months:
Housing-related programs
Innovative financing mechanisms for affordable housing
Educational efforts about affordable housing
Supporting others to solve affordable housing problems
Legislation/public policy that addresses our state's housing needs
Innovation, leadership, creativity, or partnership that goes above and beyond the nominee's job duties
Specific examples, quantified results, and other details that show the nominee's impact
MORE INFORMATION
For more information about the Friend of Housing Award, please contact Margret Graham at margret.graham@wshfc.org.