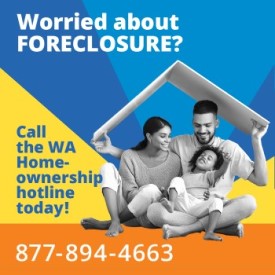 HOMEOWNERSHIP
• Home Advantage
• House Key Opportunity
• MCC Reissuance
• Homebuyer Education
• Premier Lenders
• Downpayment Assistance
• Homeowners Guide
• Counseling Providers
• Payoff Request Contact Information

Homeowner Assistance
Worried about foreclosure? Behind on payments?


Get support today!
Don't wait — call the state Homeownership Hotline at 877‐894‐4663 to begin working with a housing counselor and connect to low‐cost legal aid, mediation and other support.
AVOID SCAMS — Many bad actors are waiting to take advantage of homeowners in trouble. Don't be taken in by offers to help you for a fee.
Federal Assistance Coming Soon
Federal funds are coming to Washington to help homeowners who have experienced hardships due to the pandemic (after January 21, 2020).
Thanks to the American Rescue Plan Act (ARPA), Washington state will receive $173 million for homeowner assistance. The Washington State Department of Commerce will distribute this Homeowners Assistance Fund over the next four years.
Be wary of scams: Homeowner assistance funds are not yet available from anyone!
Learn more here about the Homeowner Assistance Fund and the plan for distribution to homeowners.