ADMINISTRATION
• About WSHFC
• Board Meetings/Hearings
• Careers
• Commissioners
• Events and Workshops
• My View from Kim Herman
• Newsroom
• Publications
Friend of Housing Awards
Friend of Housing Awards are presented each year to individuals, projects, or organizations who have made exceptional contributions to creating or supporting affordable housing.
Sevy Lifetime Achievement Awards honor individuals for sustained and exceptional contributions to affordable housing.
Find out more about the Sevy Lifetime Achievement Award.
MOST RECENT AWARDS PRESENTED ON OCTOBER 3, 2017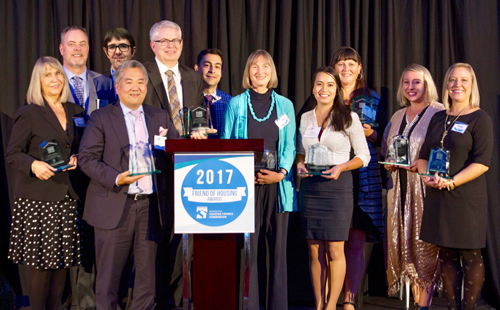 Media Release
Friends of Housing honored for leadership, inspiration (PDF)
Friend of Housing
Rep. Joan McBride
Alison Dean and Jennifer Staplin
Dianne Wasson
Pam Tietz
Marty Kooistra
SMR Architects
Margaret M. Sevy Lifetime Achievement Award
Deborah Winter
From left (front): Dianne Wasson; Doug Ito of SMR Architects; Marty Kooistra; Deborah Winter; Madeline Cavazos (for Rep. McBride); Pamela Tietz; Jennifer Staplin; Alison Dean. Photo: Alec Miller. Additional photos available.
EVALUATION CRITERIA
The selection committee evaluates nominees according to their active commitment in the previous twelve months:
Housing-related programs
Innovative financing mechanisms for affordable housing
Educational efforts about affordable housing
Supporting others to solve affordable housing problems
Legislation/public policy that addresses our state's housing needs
Innovation, leadership, creativity, or partnership that goes above and beyond the nominee's job duties
Specific examples, quantified results, and other details that show the nominee's impact
PAST RECIPIENTS OF THE FRIEND OF HOUSING AWARD
MORE INFORMATION
For more information about the Friend of Housing Award, please contact us at askus@wshfc.org or call 206.464.7139 or 800.767.4663.