ADMINISTRATION
• About WSHFC
• Board Meetings/Hearings
• Careers
• Commissioners
• Events and Workshops
• Newsroom
• Publications
COVID-19 Updates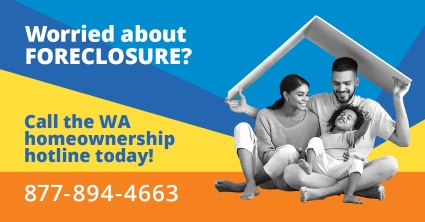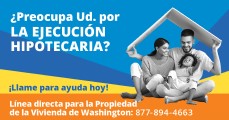 Our staff are working remotely and keeping all our lines of business — including our home loans and downpayment assistance — open to our customers. Please don't hesitate to contact us. Email will get the fastest response.
Housing developers: Per Governor Inslee's official guidance, affordable housing financed by the Commission is excepted from the statewide moratorium on construction.
For more information on the COVID-19 situation in the state of Washington, please visit the state site here.
Renters and Homeowners: Find Help
Trouble paying the mortgage: If you're concerned you might fall behind in your mortgage payments, don't wait - help is available. See the state's mortgage assistance page. Or call the Washington Homeownership Resource Center hotline at 877-894-4663 for guidance. Staff at the hotline can connect you with resources and help to understand your options.
Trouble paying rent and bills: The state has a helpful page of financial resources, including links to unemployment assistance and what to do if you are faced with difficulty paying credit cards, student loans or other bills.
Report eviction attempts: The WA Attorney General Office has provided a complaint form for rental evictions in violation of the Governor's moratorium on certain residential evictions during the COVID-19 public health emergency.
Understanding your rights and legal options: Visit Washington Law Help's COVID-19 Resources and FAQ.
Please check here for ongoing updates, though we will certainly be reaching out proactively to any potential visitors or stakeholders who may be affected. Thank you for your understanding.